Samantha McNamara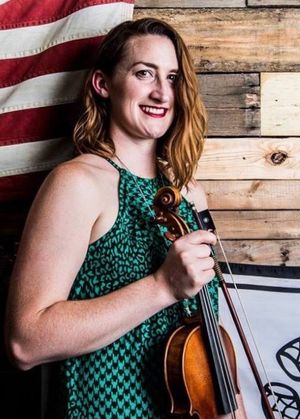 Samantha started studying violin at the age of 5. She soon discovered that playing and performing music was her life's passion. After graduating in 2006 from Butler University with a Bachelor of Music in Viola Performance, Samantha went on to pursue her career in teaching and performing in Indianapolis. For six years she was on the teaching faculty at Meridian Music, one of the preeminent music schools in Carmel Indiana, where she taught over 40 students a week. She became a certified Suzuki violin and viola instructor in the summer of 2010. Indianapolis also brought Samantha's first introduction to Irish music through sessions and playing with the Indianapolis Ceili Band, Ennis Clare and her own band Edge of Erin.  
In the summer of 2011 Samantha travelled to Ireland for the first time to attend the South Sligo Summer School. While there she studied with notable fiddle players Paddy Ryan and Manus McGuire. Since then she has also taken workshops and lessons from Patrick Ourceau and Oisín Mac Diarmada.  
In the Summer of 2012 Samantha moved to Cleveland to marry her husband Mickey. It was at this time that she started planning a new curriculum of Irish music education. Her dream was to take the best principles of Suzuki style education and translate it to traditional Irish music. The McNamara School of Irish Music is the culmination of this dream.